How To Get Funding With BAD or NO Credit
One of the fastest ways of getting financing is a Car Title Loan. The main benefits of Car Title Loans are:
Credit Not Needed: The credit is the equity in your vehicle.
Loans are funded incredibly fast.
The process is simple…..just a short form or a quick phone call.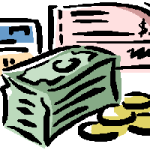 When it comes to financing a bail bond, we can get very creative. Do you need to finance the premium? Do you not have collateral? Give us a call. We don't just look at how much money you have available. There are several other options we look at that many other bond companies don't:
Credit
Job history
connections to the community
Credit or job history of other family members or friends
Other collateral, like vehicles or anything of value. 
If you have a vehicle, we can help arrange a title loan so you get to keep driving your car
If all else fails, don't give up hope. We give it our all to help arrange financing.